Welcome message from Ambassador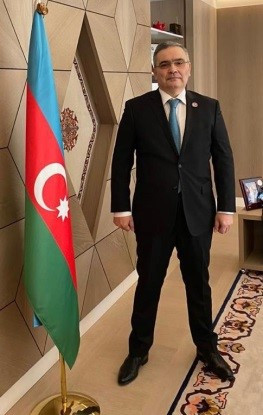 Dear visitors,
Welcome to the website of the Embassy of the Republic of Azerbaijan to the Swiss Confederation and the Principality of Liechtenstein.
Standing at the crossroads of cultures and civilizations, Azerbaijan, a crucial juncture along the ancient Silk Road, is a home to an inclusive society proud of its diversity. Established on May 28, 1918, Azerbaijan was the first Parliamentary Republic in the East. The same year, ahead of most Western countries, Azerbaijan gave women the right to vote, and all national, ethnic, and religious representatives were given ample opportunity to be represented in the country's multi-party parliament. This fact is a vivid example of how my homeland, like Switzerland, proved itself to the world as a state that gave freedom to all its citizens as far as in 1918.
Decades of striving of the Azerbaijani people to live in a free and independent state eventually led to restoration of independence on October 18, 1991. After becoming an active member of the United Nations on March 2, 1992, Organization for Security and Co-operation in Europe on January 30, 1992, Council of Europe in 2000, as well as Organization of Islamic Co-operation, the Cooperation Council of Turkic-Speaking States, the Republic of Azerbaijan is currently chairing the Non-Aligned Movement, which comprises of 120 member states.
After the restoration of independence, under the leadership of President Heydar Aliyev (1993-2003) and President Ilham Aliyev (since 2003), my country has undergone a great deal of development. The foreign occupation of 20% of Azerbaijan's territory has been ended, the country's territorial integrity has been restored, and sustainable economic development has been ensured. From a country in need of assistance in the 1990s, Azerbaijan has now become a self-respecting state through performance of good deeds. During the last pandemic alone, Azerbaijan provided significant assistance to more than 30 countries in the fight against COVID-19.
Today, the people of Azerbaijan, comprising various ethnic and religious groups, are working towards developing a modern and democratic state with free market and solid social institutions. Azerbaijan's foreign policy focuses on promotion of trans-regional economic projects, good neighbourhood, co-operation with European and Euro-Atlantic structures, contribution to the process of strengthening of global and regional security, and effective promotion of intercultural dialogue.
Along with similar nature and kind people, Azerbaijan and Switzerland are also united by other factors. The growing economic ties between the two countries, cooperation in energy and transport, and the contribution to peace are vivid examples of these factors.
I invite you to use our internet resources, and at the same time, my staff and I express our readiness for effective co-operation.
Yours sincerely,
Fuad ISGANDAROV
Ambassador